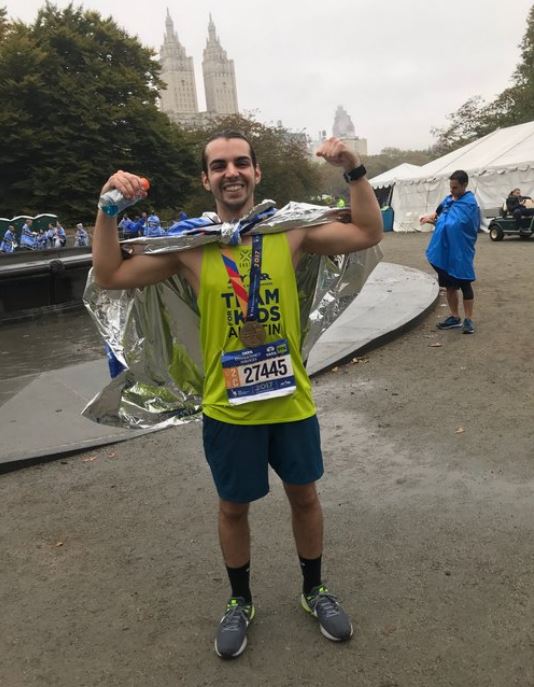 This month's Personal Impact Recipient is Austin Kapetanakis, Human Resources Coordinator in our New York office. He asked Fareportal to  support him in running the 2017 New York City Marathon for Team for Kids.
Teams for Kids is an organization that has become like an extended family to Austin. He describes them as a group of dedicated runners who raise funds to add meaning to their miles with the mission to build a happier and healthier future for youth nationwide. The organization makes it possible for underprivileged and under served children across the country experience the life changing and transformational joys of running and fitness.
While growing up, athletics played an integral role in shaping who Austin has become. He notes that he would not be the person he is today without all of the lessons learned and character built through years of training. Even to this day, he feels privileged to be living a healthy lifestyle both physically and mentally thanks to physical exercise such as running. Because of athletics, he's also made many lifelong friends and feels fortunate to be a part of many extraordinary communities as a result, Team for Kids being one of them. To pay it forward, and give the same opportunity to kids that may not have otherwise have a chance to is why Austin chose Team for Kids.
Austin has been apart of Team for Kids for two years now. He started as a fundraising runner, and have since take on more responsibilities. This year he served as a mentor for the group since he had successfully fundraised and ran in the NYC Marathon the previous year. Mentors serve as an invaluable resource to all of the new runners and members of their community. From training questions, to fundraising questions and advice, to race day logistics, being a mentor has made this year that much sweeter for Austin.
Overall to date, Austin has fundraised over $6,000 (thanks to many generous donors). He hopes to hit the $10,000 mark soon!
To get involved with Team for Kids and make a difference in youth's lives as well as your own life, you can visit www.teamforkids.org and sign up for an upcoming race on their behalf and be up to something bigger than yourself by pledging to donate funds for those who benefit directly as a result of Team for Kids' programs.