CheapOair's Booking Data Shows Florida and Mexico Lead Tropical Getaway Destinations for the 2017 Winter Season
Only a few weeks into winter, CheapOair®, a leading flights-focused hybrid travel agency, is already seeing patterns of travelers heading to warmer climates. The agency announced today the most popular domestic and international destinations for people trying to escape the cold during the early months of 2017.
Florida was the most booked state with five cities ranking in the top 10 domestic destinations, including Orlando, Ft. Lauderdale, Fort Meyers, Tampa, and Miami. Average ticket prices these cities were all under $300. Additionally, prices to these cities were, on average, 4.34% lower compared to the same period in 2016.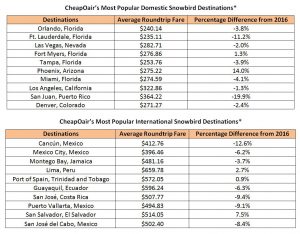 While most cities on both the international and domestic lists are popular for their tropical climates, Denver, Colorado, a popular winter destination with world-class skiing and snowboarding, ranked 10th on the list of domestic destinations.Mexico led the international list with Cancún, Mexico City, Puerto Vallarta, and San José del Cabo in the top 10 international destinations. The average ticket price to these cities was $451.61, 9% lower than the same period in 2016.
CheapOair's data also found that January was the most popular month for travel to the highlighted destinations as passenger numbers taper off as spring approaches.
For more information, please visit www.CheapOair.com, www.cheapoair.com/mobile, or our social media pages, www.Facebook.com/CheapOair and www.twitter.com/cheapoair.
*To create the list, CheapOair analyzed bookings made from October 1, 2016 – January 4, 2017 from gateways in cold weather states. Cold weather states included in the query include: Alaska, Colorado, Connecticut, Delaware, District of Columbia, Idaho, Illinois, Indiana, Maine, Maryland, Massachusetts, Michigan, Minnesota, Montana, New Hampshire, New Jersey, New York, North Dakota, Ohio, Pennsylvania, South Dakota, West Virginia, and Wisconsin.
About CheapOair
CheapOair is a next generation concierge travel agency (online/traditional) that enables consumers to book travel online, on its award winning mobile app, by phone or live chat. CheapOair bridges the gap between an online and traditional travel agency with certified agents available to help find deals and offers to destinations worldwide on over 450 airlines, 150,000 hotels, and many car rental companies worldwide. Partner airlines benefit from access to CheapOair's broad customer base that books high yield international travel and add-on ancillaries. Follow CheapOair on Facebook and Twitter to learn how to travel the world for less or go to www.cheapoair.com or call 1-646-738-4820).
https://www.fareportal.com/wp-content/uploads/2013/04/fp-logo.png
0
0
fareportaladmin
https://www.fareportal.com/wp-content/uploads/2013/04/fp-logo.png
fareportaladmin
2017-01-13 10:45:07
2017-01-13 10:45:07
Snowbirds are Traveling South in 2017 to Escape the Cold of Winter