When did you join Fareportal? What roles have you filled during your tenure?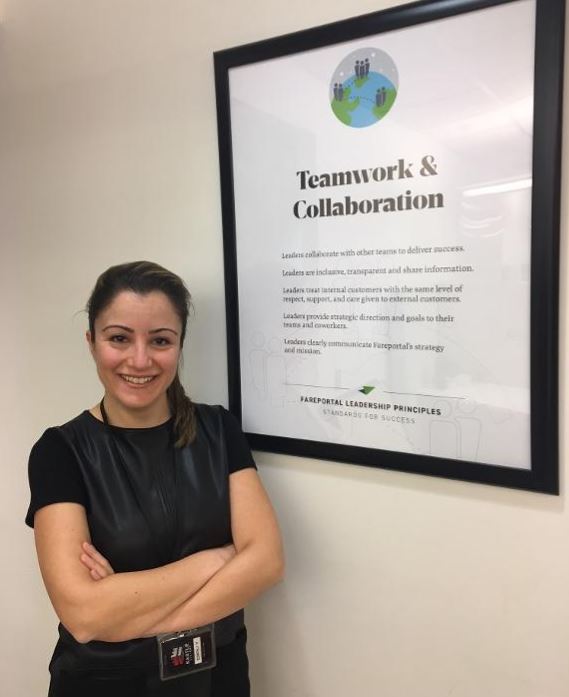 I joined Fareportal 7 years ago as a web designer. After a year of designing and building landing pages, I moved to the Marketing team and took on a manager role. I have been Miss Landing Pages ever since! Last year, Search Engine Optimization (SEO) was officially added to my set of responsibilities and my current title is Senior Manager of Landing Pages and SEO. What did you do before joining Fareportal?
Fun fact: I started my career as a furniture designer and I was very pretty good at it! I have received several international product design awards, including the IF Design Award and the Red Dot Design Award. Later, I transitioned from product design to graphic and web design with a specialization in logo, web, and brand identity design.
Do you have any special training that's relevant for your role?
I have both Bachelor and Master degrees in Design with a specialization in Usability. I also have an MBA with a Marketing specialization from the University of Tampa. I regularly attend web design and SEO classes to keep up to speed on digital marketing trends and I received an SEO master certification.
What are your main responsibilities and how do they tie into Fareportal's mission?
I have multiple responsibilities within the Marketing Department. For SEO, I work on our on-page and off-page optimization strategy to increase our organic search traffic share. This helps Fareportal lower cost. For Content and Landing Pages (CLP), I provide design support to the various marketing squads. We design and build emails and landing pages for marketing campaigns and contests. We constantly optimize our landing pages to improve the user experience and conversion. The CLP squad also manages all marketing promo codes and we make sure they meet legal requirements. Providing great user experiences through landing pages ties into Fareportal?s mission to make travel effortless, affordable, and enjoyable.
What's your special sauce that helps you do your job effectively?
Teamwork and collaboration. I am lucky to have great SEO and CLP squads in India. The squad members are hardworking, dedicated, and passionate about continuous improvement. Collaboration is about breaking down silos and building trust-based, cross-functional relationships. As a support squad, I work with all of the marketing squads very closely in order to deliver their design requests effectively. I work with product squads to bring the latest product features to our landing pages.
My work with the design squads ensures we stay on top of the latest design direction for the sites since landing pages need to follow the sites?branding, look, and feel. Throughout my work experience, I have seen that good relationships with colleagues always pay off when it comes to moving your projects forward.
What do you like about Fareportal?
I have experienced first hand how much Fareportal has grown over the past 7 years. I like working with these collaborative and hardworking people who are dedicated to creating great experiences for our customers. I also like the personal relationships I have with my peers, the after work socials, potluck lunches, and birthday celebrations!
Are you involved in any extracurricular activities that you'd like to share with the Fareportal family?
I spend most of my spare time with my two boys! We love to play board games, build things with LEGO, and read books. Arda, my five-year old son, loves to challenge himself, so chess and Stratego are our favorite games these days. We also love to read Captain Underpants books at bedtime and they make us giggle – those books are hilarious!
When I get time for myself, I like to read my design magazines, create boards on Pinterest of unique home solutions, and to shop online for home decor.