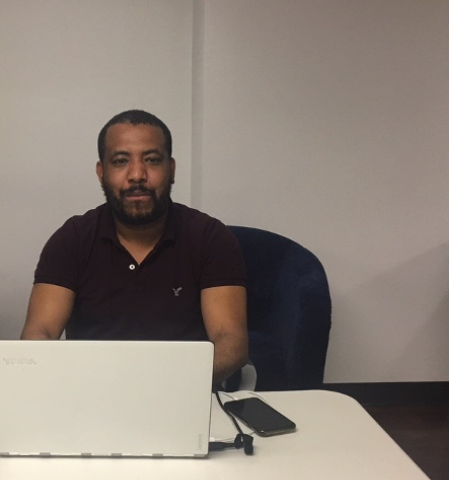 When did you join Fareportal and what's your job title? 
I joined Fareportal on August 16, 2016 and I was hired for a Bilingual Desktop Engineer role. Shortly after, I became a Team Lead.
Do you have any special training that's relevant for your role?
Prior to joining Fareportal, I worked for the Jewish Board Services which is located in the same building as Fareportal's New York office. During my time there, I set up computers in shelters and classrooms throughout New York City and Long Island.
Do you have any special training that's relevant for your role?
Yes! I graduated with a Network Systems and Communications degree in 2009 and I've developed my career through hands-on IT support and customer service.
What are your main responsibilities and how do they tie into Fareportal's mission?
I manage New York's Help Desk as well as those in Canada, Mexico, and Ukraine. I ensure the on boarding process for our new hires goes smoothly, from the physical set up of their computers, to internet connectivity, and access to the tools they need to do their jobs. In addition to this, I recently went to Mexico for a week to build out our new call center's IT infrastructure from scratch. It was a major undertaking that required coordinated collaboration among the IT, Voice Communications, Network, and Facilities squads.
What are your goals for 2018? 
As we continue to grow as a company, my long term goal is to make sure our tribes have reliable, safe equipment and connectivity. In the short term, I am supporting Fareportal's initiative to migrate to a new email service provider which is a huge and exciting initiative because it will boost our company's productivity.
What's your special sauce that helps you do your job effectively?
Passion! In order to be successful and proactive, a person needs to love what they do. Also, paying attention to the details and following up with our employees creates a great customer service experience.
What do you like about Fareportal? 
The first thing I like about our company is the diversity. It helps both professionally as well as educationally and it gives me the opportunity to become more knowledgeable about different cultures. It helps me to truly relate to the world around me. The second thing I like is the opportunity to grow within the company.
Are you involved in any extracurricular activities that you'd like to share with the Fareportal family?
I'm heavily involved with Voz Neyba, which is a nonprofit that works to provide necessities to my hometown in the Dominican Republic. The organization has donated toys, school supplies, books, wheelchairs, and even an ambulance to the town. I'm also a member of the Nature Conservancy, which is the leading conservation organization working around the world to protect ecologically important lands and waters for nature and people.