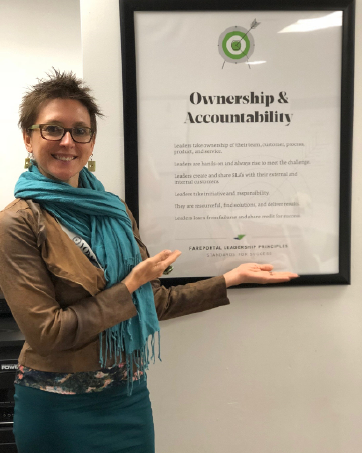 When did you join Fareportal and what is your title? 
I first joined Fareportal as an intern in October 2016 and was then first full-time in March 2018 as a Business Analyst.
What did you do before Fareportal? 
Upon receiving my Master's in Science in Physics at San Diego State University, I started my career in California as a Product Engineer at a company called Quantum Design. We built superconducting magnets and worked with low temperature physics. I then took a detour to explore my passion in Translation and explored this new market for several years until I decided it was time to learn something new. I attended a coding bootcamp where I learned the basics of HTML, CSS, and JavaScript. That is when I met Sam. He was looking for a Business Analystt and it sounded very intriguing, so I decided to embark on this new career. It has been both challenging and rewarding thus far!
Do you have any special training that's relevant for your current role? 
During the first few years of my Engineering career, I learned how to think critically and resourcefully. My later experience as a translator also gave me the opportunity to learn how to manage people as I led a team of three quality managers and I trained dozens of remote translators who lived around the world. I think all of this experience has helped me to quickly align with Fareportal's Leadership Principles.
What are your main responsibilities and how do they tie into Fareportal's mission? 
I support Sam to ensure his vision gets executed. In particular, I assist the Performance Team in setting Key Performance Indicators (KPIs), Key Responsibility Areas (KRAs), and building org charts. Clear KPIs will give direction for our employees globally, drive ownership, and help us to achieve our vision.
I also assist the Global Business Squad (GBS) and the India Business Squad (IBS), facilitate their daily meetings, and help our Leadership Squad to stay aligned and updated on critical items on a daily basis.
Is there any "special sauce" to do your job effectively? 
Yes, "Today is Day One" is my philosophy. Keep a beginner mind, stay humble, stay hungry. Be open to feedback, keep learning, and keep adapting to ever changing environments.
What do you like about working at Fareportal? 
It's dynamic, unpredictable, and never boring. I love my squad and I am NEVER the smartest person in the room. I have a bird's eye view on all aspects of the business, I get to work across all tribes, and I am given the opportunity to learn from the executives every day.
Are you involved in any extracurricular activities that you'd like to share with us? 
Yes! Argentine Tango is my number one priority after work! It's a partner dance that developed over the last century in Argentina's capital city, Buenos Aires. It has taught me about partnership, collaboration, and social skills. Yoga and meditation are two other important aspects of my life. I strongly believe in mens sana in corpore sano — A healthy mind in a healthy body — and I believe introspection makes you a richer human being and a more focused and motivated employee.