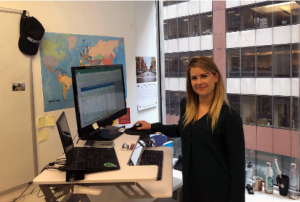 Katie Morris joined Fareportal in October 2016 as a financial analyst. She later moved up the ranks to become the company's Global Manager of Financial Planning & Analysis (FP&A) and was recently promoted to the director level. In her new role, she'll continue to carry out the primary responsibilities her global manager role called for: planning the company's budget and forecast, producing month-end reports, and providing departmental support and ad-hoc analysis.
Her new layer of added responsibility will call on her to build a global FP&A team and to work on more strategic financial models. Katie also acts as a consultant by helping Fareportal's business owners understand the financial impact of their decisions. She identifies, drives, and measures cost reductions and efficiency gains and provides value-added alternatives with accompanying analytics to our partners.
When asked about the "secret sauce" that helps her to carry out her work, Katie said, "My passion has – and will always be – to deliver impactful insights to our business owners so that they can make critical operational, strategic, and tactical decisions. Whereas Accounting focuses on the 'what', and Financial Planning & Analysis focuses on the 'why'."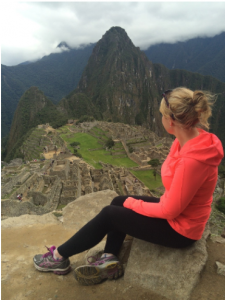 A big fan of storytelling with data and compelling visualizations, Katie finds that her empathy and ability to adapt helps her deliver information in an easy-to-digest way to her audience. "I often act as a translator between Finance and Management. When I'm wearing my translator hat, I try my best to put myself in someone else's shoes to feel what they may be feeling and to understand what motivates them," she said.
When asked about what she loves about Fareportal, Katie talked about its incredible people. "Everyone has a great sense of humor and are very passionate about what they do. If challenges arise, we take them on together," Katie said. She then added, "OH, and I can't forget about the MSG suite!" When Katie's not at work, she's working on a master's degree in Applied Analytics at Columbia University. She loves to run and she's on a quest to run a half-marathon in all 50 states! She has already run in 26 half-marathons with number 27 coming up in West Virginia in late April. She's also a self-professed yoga geek and loves to practice in the New York City-based Y7 Studios because they play the latest music and old-school Hip Hop. And like so many of us, she's a big jetsetter! She's traveled to 43 countries, including Peru to visit Machu Picchu (see left). Her next stops are Spain, Italy, and Alaska!